Yours, network!
May 28, 2013 in Work by Balthas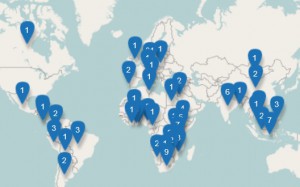 Nice. I just found this new feature of the Alumniportal Germany, that shows a map of all my contacts (click on the picture on the left side to see the large version). [Disclaimer: I work at GIZ's unit managing the Alumniportal Germany]
Hi to everyone, from Canada via South Africa to Indonesia. Let's stay in touch! And I am happy to see that the portal is moving one step closer in the direction of "showing" networks and communities. Which is a genuine challenge, as I discussed in a previous blog post titled "Non-"Sense"?! Why you can't touch an online network (yet)"
P.S. 1: unfortunately I had to cut the Fidji Islands and my friends from over there from the picture for space reasons, sorry). P.S. 2: If you are a user of the Alumniportal Germany, you should find the map with your own network at MY CONTACTS -> MY NETWORK. The URL should be [replace YOURUSERNAME accordingly] https://www.alumniportal-deutschland.org/community/pg/netzwerkkarte/YOURUSERNAME [This will be a link to content within the Alumniportal Germany (register or login first to access the link)]____
Note: This text was first published on the blog of Balthas Seibold at the Alumniportal Germany (www.alumniportal-deutschland.org/en/). Check the blog ( register or login first). All blog entries represent the personal views and ideas of Balthas Seibold.
Open A.I.R. Conference on Innovation and Intellectual Property in Africa & 3rd Global Congress on Intellectual Property and the Public Interest