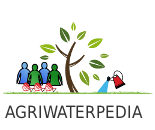 With joy, I reproduce below the invitation of GIZ colleagues to join the official launch of the global knowledge platform for agricultural water management
Main focus

www.agriwaterpedia.info focuses on agricultural water management in the context of climate change and food security.

It aims to secure knowledge gained from experiences in development cooperation. www.agriwaterpedia.info serves as an knowledge exchange and networking platform for practitioners and development experts and all those interested in the topic of increasing challenges in agricultural water management. What's in it for you?

The platform contains a library with at the moment about 260 publications, a lot of them from pre-digital times, only digitally available and from anywhere in the world accessible on www.agriwaterpedia.info.
www.agriwaterpedia.info will give you access to relevant and up-to-date knowledge, as well as to expedient approaches, practices and experience in agricultural watermanagement.

 
 
 
 
 You like the idea and you're already thinking about how to become a part of the knowledge network?
 Like all wikis, agriwaterpedia.info depends on user contributions. Please feel free to improve the platform by editing or writing articles, or by uploading publications.
 Visit www.agriwaterpedia.info and sign up for an account today!
 For further information please contact: (SV Nachhaltige Landwirtschaft) Your Agriwaterpedia-Team