About knowledge-commons.de
He who receives an idea from me, receives instruction himself without lessening mine; as he who lights his taper [candle] at mine, receives light without darkening me.

Thomas Jefferson to Isaac McPherson , 13 Aug. 1813
This site is about the knowledge commons and open knowledge peer production for  human development. Following Jeffersons paradigma, I ask, how free knowledge can (and could) trigger the freedom to learn and the freedom to innovate on a global scale. Below, you find more info on me and on the definition of "knowledge commons".
Please note: This site is a curated collection of news, analysis, training material and scientific articles. The site represents my own thoughts, which might coincide with others' including my company GIZ or not:-) – also see the imprint.
Some of the (tagged) themes covered on knowledge-commons.de are as follows:
About me (professional me)
I am Balthas Seibold.  I co-lead a global project of German Development Cooperation called "FAIR Forward – Artificial Intelligence for All" at GIZ, the Deutsche Gesellschaft für Internationale Zusammenarbeit GmbH. As a part of my job, I also advise the German Federal Ministry for Economic Cooperation and Development (BMZ) on Artificial Intelligence and on "Digital Development".
'How to foster the freedom to learn and the freedom to innovate in developing countries?' has been a key theme of my professional journey. I am particularly interested in the knowledge commons, global knowledge cooperation & social networks, that build human capacities, link up people and foster learning.
Current research and advocacy themes include:
commons-based peer production for human development, including in the area of artificial intelligence.
open innovation and open source appropriate technology
peer-to-peer learning  & community empowerment
Previously, I worked at the 'Academy for International Cooperation' of GIZ, the 'department of Sustainable Business Development' of GIZ and InWEnt – Capacity Building International, where I led capacity building programmes that promote the IT-sector in Africa and Asia. Such programs included ict@innovation, commons@ip, it@foss, FOSS-Bridge EU-Vietnam, it@coops. A lot of the content on this site related to Open Source and OpenIT stems from this work.
Before, I worked for UNESCO's bureau of strategic planning, the GTZ and the UNDP.
About the knowledge commons:
Of course, Wikipedia explains best, what the "knowledge commons" is all about. Therefore, I proudly reproduce below the up-to-date version of the Wikipedia entry on the "knowledge commons" (proudly also, because I happened to have the privilege to start this entry together with a colleague, Phillip Winter).
Wikipedia on the knowledge commons
https://en.wikipedia.org/wiki/Knowledge_commonssource:
This article uses material from the Wikipedia article "knowledge commons", which is released under the Creative Commons Attribution-Share-Alike License 3.0
Jefferson on the knowledge commons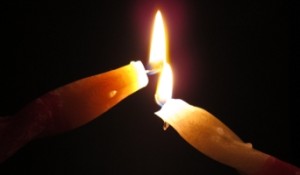 The "candle" quote above has inspired this site. Therefore, I end this section with a more complete quotation of the parts of the letter of Jefferson on knowledge and property. They read perfectly up to date, considering that Jefferson wrote these lines to Isaac McPherson on the 13 August of 1813. The entire letter is also online here, the content should be in the public domain by now :-).
[cc_full_width_col background_color="f1f1f1″ shadow_color="888888″ radius="6″]
If nature has made any one thing less susceptible than all others of exclusive property, it is the action of the thinking power called an idea, which an individual may exclusively possess as long as he keeps it to himself; but the moment it is divulged, it forces itself into the possession of every one, and the receiver cannot dispossess himself of it. Its peculiar character, too, is that no one possesses the less, because every other possesses the whole of it. He who receives an idea from me, receives instruction himself without lessening mine; as he who lights his taper at mine, receives light without darkening me. That ideas should freely spread from one to another over the globe, for the moral and mutual instruction of man, and improvement of his condition, seems to have been peculiarly and benevolently designed by nature, when she made them, like fire, expansible over all space, without lessening their density in any point, and like the air in which we breathe, move, and have our physical being, incapable of confinement or exclusive appropriation. Inventions then cannot, in nature, be a subject of property.
Thomas Jefferson to Isaac McPherson , 13 Aug. 1813
[/cc_full_width_col]