November 1, 2012 in Freedom to innovate, Freedom to learn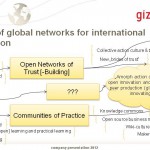 Yesterday, I tried to put the future of "global networking for international cooperation" in one slide –  looking five to ten years ahead. My first problem was to find a name for the future. I ended up with "Amorphous action communities for open innovation and [commons-based] peer production (globally connected, innovating locally)".
Then, I outlined some of intermediate steps in networking such as "Open networks of trust" and "Communities of Practice", which we are already seeing popping up. My final guess was on some of the driving forces, that will lead us from today's networks all the way to the "amorphous action communities".
So here's the picture, with the steps and the driving forces: