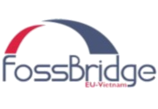 More than 80 IT experts gathered on 14 November 2008 at "Drive for change", a conference on Free and Open Source Software (FOSS) held at Horison Hotel in Hanoi, Vietnam. Carried out as part of the FOSS-Bridge EU-Vietnam initiative, the event was organized by InWEnt of Germany, INRIA of France, and the Institute of Information and Technology of Vietnam.
"FOSS is about connecting people and businesses through knowledge. We are therefore most pleased to see that more and more players in Vietnam cross the bridge towards free and open source software", stated organizers Vu The Binh of IOIT and Balthas Seibold of InWEnt. The conference was the culminating point of the initiative FOSS-Bridge EU-Vietnam, which has been promoting Southeast Asian software industries and cooperation with Europe through innovative collaboration on FOSS and business development since 2006.
Overall, the programme has brought together more than 50 IT-companies from Vietnam and Europe for matchmaking and twinning, and about 100 FOSS companies and organizations are registered in the online network at www.foss-bridge.org. FOSS Bridge EU-Vietnam has successfully prepared more than 20 Vietnamese IT-intermediaries and IT-SMEs to spread key knowledge on how to make business based on FOSS. More information: on the conference "Drive for change" / on FOSS Bridge EU-Vietnam in general / on previous key events such as the "High-Level Workshop on Open Source Requirements" (April 2008) and the "Second matchmaking, training and twinning workshop for European and Vietnamese FOSS businesses" (June 2008) / article on website of European commission.