The "second global congress in Intellectual Property and the Public Interest" that I am attending right now, is full of interesting talks and takes on the "public interest" side of copyright and development (for more see the extensive twitter coverage at #gcongress). But a highlight was certainly yesterday's "session on IP, Innovation and Development".
I will not talk here about the excellent presentations of the case studies of the "Open African Innovation Research and Training" network, as I might be accused to be biased being part of Open AIR (Check the article: "African 'Social Capital' Key to Policy Change, Open A.I.R. Argues in Rio", for more on Open AIR, check http://www.openair.org.za/). I will also not talk about an excellent talk by Prof Barbosa of Brazil on the Brazilian approach to innovation promotion (Brazil focusing on the power of public procurement to promote local industries and their innovations, e.g. in the health field). I will talk about the last talk of this session, which was by EFF' Carolina Rossini (https://www.eff.org/about/staff/carolina-rossini).
She presented he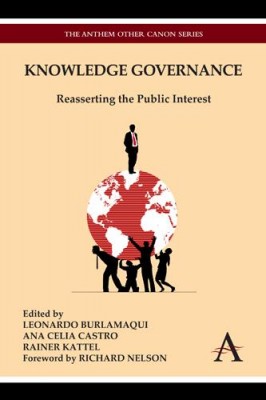 r chapter of a just-published book on "Knowledge governance – Reasserting the public interest"
I found there some hints of answers to a question that has been hounting me for a while: How can institutions deal with community-driven innovation, and particularly one based on commons-based peer production? Are they able to do it at all? What kind of governance mechanisms are needed beyond these institutions? And how can we build such "novel, democratized, and distributed knowledge governance as a meaningful complement to more traditional systems "?
Carolinas approach is to "uncover the knowledge spaces where commons-based approaches, peer production, and modes of network-mediated innovation have – and have not – emerged, and to examine the conditions under which these approaches either flourish or are discouraged."
She departs from the very true analysis, that "although innovation policy has become a core element of policy-making in both the developed and developing world as countries engage in the information society process and compete in the globalized world, there is little "network centric" knowledge governance included as part of the process." And that all institutions engaged in innovation "have existed to date in almost a separate world from the network-based, peer-produced-and-governed world".
Her governance recommendations then focus on one key organization in the "middle" of the innovation system: the university. What hare her key lessons for educational institutions aiming for distributed knowledge creation?
The first is drawn from the technical world: the idea of interoperability. "Interoperability allows unrelated systems to communicate and function in ways unexpected by their designers. The idea of interoperability as something that scales from technology to knowledge itself has emerged alongside the rise of the digital commons in culture and software. In this view, it is not only computer networks that must interoperate. Also intellectual property rights and semantic understanding must interoperate, so that distributed peer production of knowledge can make the leap from an encyclopedia into the sciences and other research disciplines." In this context, I of course like here normative statement that "interoperability as a design principle represents "good taste" in knowledge governance, as it both empowers those with the current capacity to participate in innovation and those who have not yet acquired that capacity.
Second, the role of democratized access to infrastructure is essential. Open systems, be they legal, technical, or policy, that are not designed with interoperable infrastructure in mind are likely to yield unintended consequences. "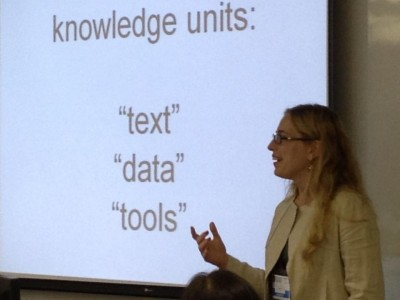 Thirdly, each knowledge product "carries its own set of informal and formal governance regimes that affect distribution and transfer. Intellectual property rights are one of the factors here, but competitive withholding (either for academic advancement or corporate value) has a major impact as well. Finally, infrastructure and incentives for distribution and re-use are complex, yet essential. Therefore, in order to achieve real changes in knowledge governance regimes, a coalition of funders, research institutions, knowledge publishers, governments, and technical infrastructure providers seems essential. The University has a real role to play here, as as well-placed actor to foster and host arrangements of networked knowledge creation and distribution, adding to the Triangle or Helix of University-Industry- Government a fourth and empowered actor, the networked universe of individual user- innovators. Through the application of "commons" techniques like open licenses and through the use of cyberinfrastructure, the University can create a public space not just for its internal clients (student-faculty) but also public spaces in which the collected set of users on the network can connect through open educational resources and materials to the formerly closed Industry-University-Government innovation system.
For this, the University will have to develop a sufficiently complex internal policy of knowledge governance to allow the open and distributed knowledge models to emerge, concepts that bring together some important themes such as user reinvention, the economics of open source, open licensing, technologies of cooperation and collective action, and cyber-infrastructure for national and international collaboration and access to and transfer of knowledge.
That's it, sorry for being a bit longish, but there's lots of interesting points in that talk an book chapter. So the only fault I can find it that the book itself is not part of a knowledge commons, but luckily I got the chapter from Carolina, its online here as a file.
Cheers, Balthas
P.S.: For the non-political-scientists among you a quick definition of knowledge governance taking from the book: "Knowledge governance is an analytical framework that embraces different forms of public governance mechanisms such as supervision, rulemaking, regulation, policy prescriptions and institutional coordination and applies them to the realms of knowledge production, diffusion and appropriation."
P.S. II: As I have quoted the article version of the book chapter, I happily reassert, that this blog is under the same creative commons licence as the original, which is Creative Commons Attribution Share-Alike License:
http://creativecommons.org/licenses/by-sa/3.0/us/ . See here for the article:
http://cyber.law.harvard.edu/commonsbasedresearch/sites/commonsbasedresearch/images/Genomics_Knowledge_Governance.pdf
____
Note: This text was first published on the blog of Balthas Seibold at the Alumniportal Germany (www.alumniportal-deutschland.org/en/). Check the blog ( register or login first). All blog entries represent the personal views and ideas of Balthas Seibold.